Don Johnson was born in Virginia but now lives in the Harrisburg PA area. He as been playing guitar since the age of 6 and has been entertaining for nearly 50 years.

His individual style has been influenced by such greats as Albert King, Buddy Guy, BB King and Jimi Hendrix. Don's soulful vocals and creative guitar were featured in a Blues musical called 'The Tear Jar' , an original blues show in 2008. He has played in many bands over the years including 'The Don Johnson Project' which participated in the 2008 and 2009 International Blues Challenge in Memphis, Tennessee. Don also performed with 'The Playboys' a Virginia based band and several other local bands such as 'Rupa Dupa' and 'B Block Blues.
Don Johnson can often be found jamming at the 'Blues Society of Central Pennsylvania' weekly gathering.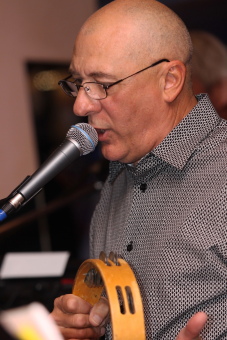 Born and raised in the Harrisburg area Tom has been playing and jamming to music since he was ten years old. And like his brother Bob he too was once an inspiring bassist, although he declines to discus what events led him to forgo the bass and concentrate on his vocal talents and his love of percussion.

Tom has played in various local bands including the popular R&B / Funk band Main Squeeze (10 yrs) and the 50's and 60's Oldies band, Memory Lane (5yrs). He cites some of his top musical influences as James Brown, The Temptations, Four Tops and the Average White Band though he's quick to tell you"...all the great Soul singers of the 50's, 60's and 70's."

Tom is elated to be back on stage performing with his brother and some of the best musicians in Central Pa. And it's this passion for percussion along with his smooth styling that have led many to call him the "Tito Puente of Soul".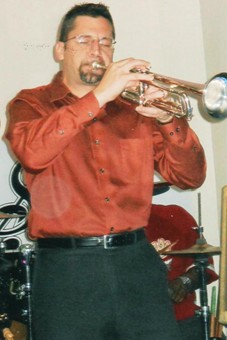 Larry has played trumpet since the age of 10 and quickly took advantage of many opportunties and methods to advance his skills including graduation from the US Army School of Music in Norfolk, VA and a 4 year run as Lead Trumpet Player with IUP's Jazz Ensemble.
Larry joined Soul Solution in 2010 and compliments the groups's energy level well with crisp, powerful lead trumpet playing covering an impressive three octave range. He enjoys this challenge and loves the band. Larry performs solos on trumpet and flugelhorn as well as backup vocals and percussion. Larry attended master classes or studied privately with some great artists including Roger Ingram, Dave Stahl, Wayne Bergeron, Maynard Ferguson, and Ron Blomberg. He is grateful for their expert guidance.

In addition to Soul Solution, Larry has performed with many bands (most as Lead Trumpet Player) to include the Woody Herman Orchestra, 74th US Army Band, Bob Hope, IUP Jazz Ensemble, Bobby Mercer's Show Band, the Lebanon Big Swing Band, Herm Miller Orchestra, Don Trostle Big Band, Just Friends, The Mellowtones Jazz Combo, Jazz Transitions Big Band, Mark Rutter's Dixeland Band, Hallmarks Polka Band, Bill Hicks Brass Quartet, Rich Megonell's Mexican Band, Maxwell Project, Pittsburgh Youth Symphony Orchestra, and the Craig Sunday Orchestra. Larry resides in Harrisburg.
Born and raised in Harrisburg PA, Bob first picked up the bass at age 2. And quickly dropped it only to begin again at age 15.

Over the years Bob has played with several funk and R&B bands including Main Squeeze, Line Drive, After Glow, Blitz Dinette and the local variety band Nightwind. While with Blitz Dinette he recorded two CDs on which he was honored to play with Lou Marini, the sax player for the "Blues Brothers" and opened for "Tower of Power" when they performed in Harrisburg.

Bob has over 30 years experience as a bass guitarist performing from Harrisburg to Philadelphia, New York, Connecticut and Maine. Bob is also currently jamming with Cruise Control.


Bob provides the Soul Solution Band a great sense of rythmic drive and is serious about creating a funky feel. Bob "locks in" well with Butch Barber. He communicates the feeling of "Funk" like a second language.